Refund Policy
1. If my refund gets validated, how and when will be reimbursed?
a) Refund process begins after we have completed evaluating your returned product and an exchange is not possible. From the day you submitted your return request, This quality evaluation process may take up to 7 days. A refund notification shall be sent via email once the process is finalized b) All refunds will be carried out for at most 10 working days, depending on the method of payment, from the time an authorization is given by the merchant. c) POTAFRIQ shall operate on non-cash refund terms mostly, a PotAfriq Credit Note will be the first and ideal refund mode, however in situations where there is need to refund the customer in cash, authorization/approval shall be sought to refund a customer. d) In the event you would prefer a cash refund, the refund methods available according to payment methods are: Payment methods Refund methods M-Pesa Mpesa or Credit Note Bank Transfer Credit Note or Bank Transfer Credit Note Credit Note Only
NOTE: Once you select your preferred method of refund you will not be in a position to change it.
2. What is a Credit Note?
A PotAfriq Credit Note is a compensation mechanism which credits you with the value of your returned product when placing an order for a new product. You can use PotAfriq Credit Note as voucher code/coupon to purchase any item on the website. A credit note is valid for 180 days from issue date and can be used on several purchases, until your balance is 0.
3. How do I use my voucher?
If you have been issued a PotAfriq Credit Note, you will have received a voucher number. Please enter this voucher number in the voucher code box and click "add voucher" during checkout at payment step. A corresponding deduction will be applied to your total amount. (sample pic)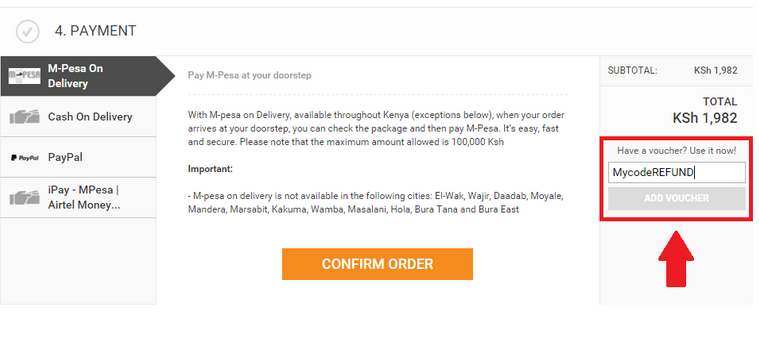 4. I have bought an item on promotion or with a voucher. What amount will you refund me?
For items purchased on sale, the amount refunded will be the exact amount paid, and not its original value. For example: If you purchased an item on sale for $20 and its original value was $40, we will refund you $20. If you purchased an item with a Credit Voucher, we will refund you the sum of the amount you paid and the amount of the PotAfriq Credit Voucher.